The main aim of Cryptodus is to create unseen business models through Blockchain – Lukas Kairys, Cryptodus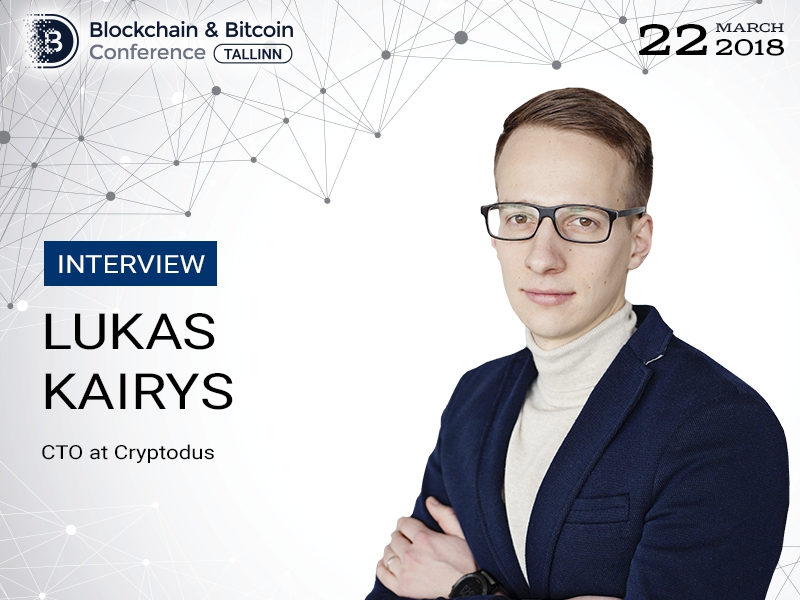 Blockchain and Smart Contracts technologies may create new opportunities, unseen business models or even ecosystems, believes Lukas Kairys, CTO at Cryptodus. Lukas Kairys, a blockchain expert, is going to speak about the future of smart contracts at the Blockchain & Bitcoin Conference Tallinn on March 22.
In the interview to the press service of Blockchain & Bitcoin Conference Tallinn, Lukas Kairys talked about his career, interest in ledger technology-based systems and his experience with smart contracts.
Interviewer: Blockchain & Bitcoin Conference Tallinn (BCT)
Speaker: Lukas Kairys, CTO Cryptodus (L.K.)
BCT: Could you tell us why distributed ledger technology-based systems interest you, please?
---
L.K.: The first time, I heard about the Blockchain was 3 years ago. Of course, Bitcoin at that time was probably the only Cryptocurrency that most people in the industry spoke about. However, as a software engineer, I got interested into the core idea of Blockchain: how does it work, what are the options to build applications on top of it and what value it could bring for real businesses providing real use cases. Therefore, I started digging deeper and later on found out about Ethereum. This is how my journey began. Distributed ledger technology got my attention mainly because of the idea, the middle-man role can be removed, or its impact can be reduced to a minimum. Therefore, the idea of decentralized ecosystems and what you can build on top of it got my interest.
---
BCT: It is interesting to know more about your work for Aigang.Network project and building P2P IoT device Insurance on the blockchain. What challenges did you face? How has it turned out by now?
---
L.K.: I've been a part of both Aigang.Network as well as WePower.Network projects. For Aigang, it was an incredible experience to build the initial structure for IoT Insurance Smart Contracts, solve Smart Contracts upgradability and security challenges. Therefore, during my time with the team, we managed to launch MVP and issued over 1000 virtual insurance policies for real people on Ethereum Testnet via iOS / Android apps. My other experience was working with WePower.Network team. The project increased my interest in the Energy sector, and it was a pleasure to meet and work together with Energy and IoT industry experts from Lithuania and Estonia. However, as my main focus, there was to facilitate the Token sale / ICO itself including Smart Contracts, Token sale / ICO web, and security, with the help of great advisors and the team we managed to conduct a very smooth token sale.
---
BCT: As we know, your company Cryptodus helps your clients to take the very first steps towards the development of their ideas. Could you tell us, which start-up projects that you worked with you consider the most successful?
---
L.K.: I co-founded Cryptodus about half a year ago with my Partner Ronaldas Budrys. Most of the start-ups and companies that approach us are at the early stage. Usually, they have an idea, have a working product or some business developed, but see huge potential for Blockchain technology, Token economy and global scale. Therefore, they ask us for help. Another part of our customers are the ones that need a distributed application, Token sale Smart Contracts development or auditing services. As an example, I could name some of our successful clients that are currently running or approaching a Token sale: PetSource.io, Solve.care, Safein.com, Dragonglass.com.
---
BCT: Apart from your key services such as Smart Contracts development and auditing, token sale/ICO advisory and creating a token economy, what else do you offer to your clients?
---
L.K.: In addition to these services, we get custom requests/inquiries from Enterprises or Government/Public organizations to provide consultancy services on Blockchain tech, Smart Contracts and what opportunities they can create to and build new business models for existing businesses.
---
BCT: What is the main aim of Cryptodus? And could you tell us about the future plans for further development, please?
---
L.K.: The main aim of Cryptodus is to enable existing and new businesses leverage Blockchain and Smart Contracts technologies to find new opportunities, create unseen business models or even ecosystems. Looking ahead, we plan substantial growth by developing sustainable and scalable global business. We have various Customers from different geo-locations, and we would like to enter new markets as early as possible to understand better how we can bridge different markets providing unified tech. solutions and services. We also plan to roll out our custom products off the shelf. The core challenge we see at the moment is lack of talents as there are not many skilled Blockchain / Smart Contracts developers. The reason is that the technology is yet in a very early stage and there was not enough time for talents to grow. Therefore, we have a tough target to grow our technology team and hire new people as well.
Registration ►►►