At Blockchain & Bitcoin Conference Tallinn, world-class lawyers, developers and marketers will deliver presentations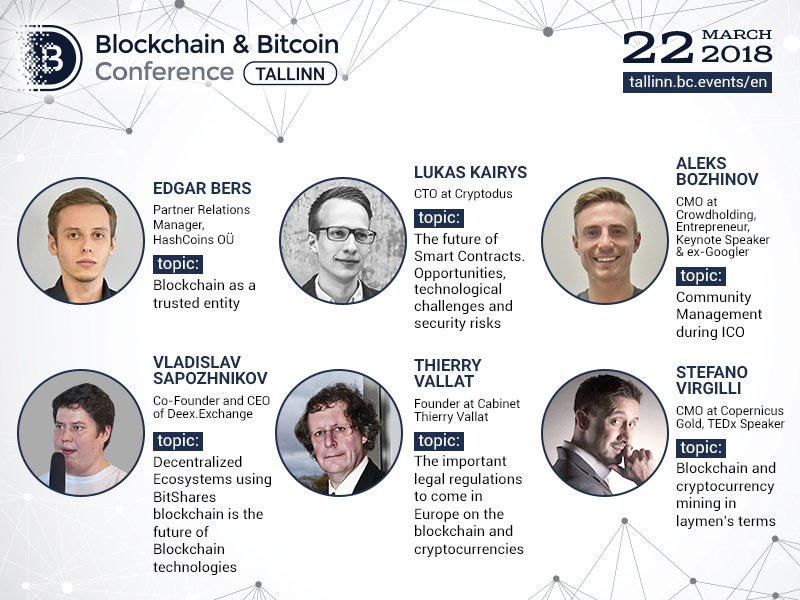 On March 22, the Estonian capital will host the second international conference dedicated to cryptocurrencies, blockchain, and ICO – Blockchain & Bitcoin Conference Tallinn.
The discussions will cover cryptocurrencies and tokens regulation across Europe, trends in the world of blockchain technologies as well as smart contracts potential.
Meet new speakers:
Thierry Vallat, Founder at a law firm Cabinet Thierry Vallat, ex-member of Board of Directors and treasurer at 'France-Estonia' Association. He will tell about the approach towards the cryptocurrencies and tokens regulation in Europe.
Aleks Bozhinov, serial entrepreneur and CMO at Crowdholding. The Czech Republic-born expert will reveal the secrets of cooperation with the crypto community when promoting ICO.
Lukas Kairys, CTO at a blockchain-based consultancy Cryptodus. The expert will speak about the advantages of smart contracts in business and changes they are to go through in the future.
Vladislav Sapozhnikov, Founder and CEO at Deex.Exchange. He will explain the difference between decentralized and centralized exchanges, dwell on such technologies as BitShares and Graphene.
Edgar Bers, Partner Relations Manager at HashCoins OÜ – a company focused on development and integration of blockchain services in business. The speaker will explain in which way can blockchain perform the role of a trustee.
Stefano Virgilli, CMO at Copernicus Gold that created a payment blockchain platform which assets are gold-underpinned. During his presentation, the audience will get more information on blockchain and mining.