The major event in the crypto space of Estonia Blockchain & Bitcoin Conference Tallinn will be held on March 22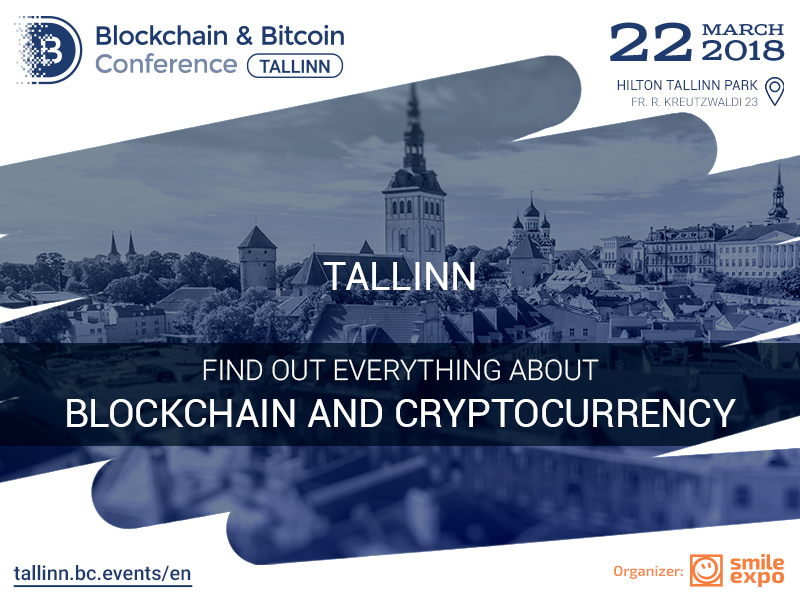 The highly anticipated event of the year dedicated to the crypto industry Blockchain & Bitcoin Conference Tallinn will take place on March 22, 2018. The well-known experts will discuss the Estonian and foreign blockchain projects. The exhibition will traditionally gather the leaders of the global crypto market.
Why Tallinn?
Estonia goes among those countries that show loyalty to cryptocurrencies and blockchain. It is a place where a large-scale digitalization project E-residency has been functioning for a long time. What is more, the authors of the e-residency program offered public ICO and Estcoin launching. In case of success, Estonia would become the first country across the globe running public ICO. The packed audience at Blockchain & Bitcoin Conference Tallinn in 2017 proves that the crypto community of Estonia is interested in such events.
Who participates?
An event organizer Smile-Expo will for a second time gather in Tallinn not only topic experts, but representatives of other spheres interested in cryptocurrencies, blockchain, and ICO. Among the event guests, there will be entrepreneurs, investors, developers, founders of blockchain startups, lawyers, state officials, trades, and crypto enthusiasts.
What topics will be covered?
The event will be a place for the authorities and crypto community networking. That is why the cryptocurrency regulation in Estonia and other countries will be one of the key topics covered by the speakers. The company heads will share their experience in the blockchain inclusion into business while the investors will discuss the top ICO projects to invest money in. The launch of the startup token sale is also a very important topic so the speakers will delve into all the preparation stages: starting from an idea and ending with token sales.
The venue
The event will be held at the fashionable hotel Hilton Tallinn Park in the city center.
Follow the news about the event and the program upgrades on the official website Blockchain & Bitcoin Conference Tallinn.