Blockchain regulation in Estonia and worldwide: panel discussion participant – Jordanian entrepreneur Iman Mutlaq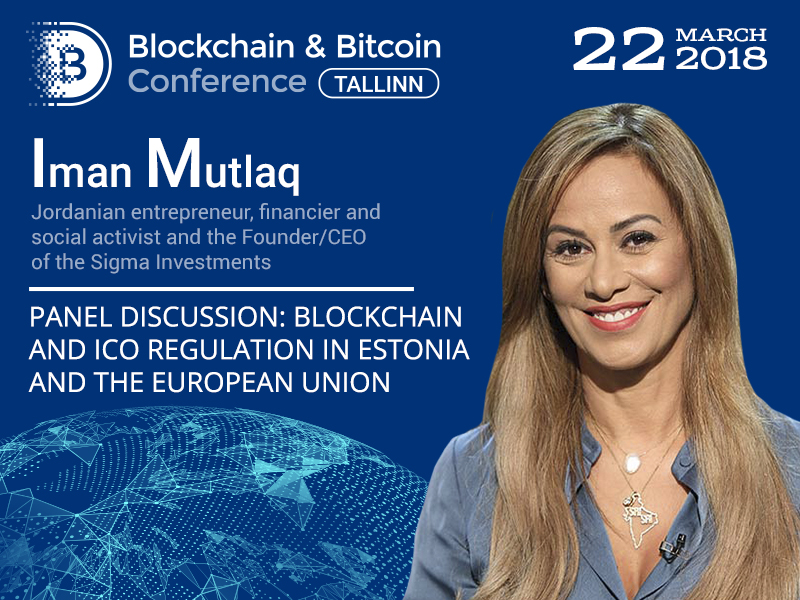 Blockchain regulation in the Near East is an interesting topic for those desiring to see the full picture of technology development and adoption.
A panel discussion of Blockchain & Bitcoin Conference Tallinn will involve Iman Mutlaq, one of Jordan's most influential entrepreneurs, investors, and social activists.
Iman Mutlaq is an entrepreneur, financier, as well as the founder and CEO of Sigma Investments. Forbes included her in a list of "The 100 Most Powerful Arab Businesswomen" (ranked 32nd and 41st positions respectively) in 2016 and 2017. In 2010, she became a delegate at the inaugural US Presidential Summit on Entrepreneurship.
Iman Mutlaq received prestigious awards in the financial and business sector. She is one of the Jordanian social activists, highly focusing on the development of entrepreneurship within the region as well as issues of woman's rights and opportunities. The speaker was the Jordanian goodwill ambassador in human rights in 2014 and a speaker at the International Women Conference.
Sigma investment led by Iman Mutlaq cooperates with two other companies and the Egyptian government in order to establish an electronic commodity exchange in the country. An estimated traded value will be $35–50 million.
Blockchain & Bitcoin Conference, Iman Mutlaq will participate in the panel discussion dedicated to blockchain regulation in Estonia and worldwide. She will tell the audience how Jordan integrates and adopts blockchain and what laws regulate technology application.